Save the Date for the 14th Annual Saddle Up LA - July 13, 2019 - Website Updates Soon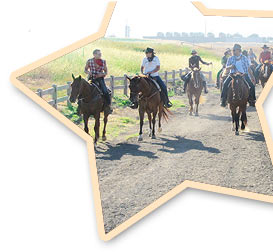 Itís time to dust off your Stetson and polish up your boots as we head up into the hills of Griffith Park for the 13th annual Saddle Up LA. Enjoy an afternoon riding and laughing with friends followed by a festive country BBQ, all to raise money to support the Life Group LA and itís mission to bring itís nationally recognized POZ Life Weekend Seminar to the HIV/AIDS community.
Never been on a horse, no worries!
No horse riding experience necessary! Riders of all levels can participate and enjoy a fun filled scenic trail ride through the hills of Griffith Park led by seasoned and experienced guides. Register for the ride here.
After the ride get cleaned up, put on your fancy duds and celebrate at a down-home Country Style BBQ with lively entertainment, line dancing lessons, exciting drawings, a silent auction filled with unique items, and the presentation of awards.
If riding isnít your style, you can still register as a Fundraising Friend and support the ride financially. Separate tickets are also available to attend the BBQ only.
Register today and donít get left in the dust!
About the Life Group LA

The purpose of Saddle Up LA an AIDS Benefit Trail Ride is two fold:
First; to provide financial support to Life Group LA so they may continue providing education, empowerment and support to persons infected and affected by HIV/AIDS.
Secondly; to raise awareness of the fact that the AIDS pandemic is not over. The ride is an affirmation of the power of compassion and a demonstration that ordinary people can accomplish extraordinary things.
"A horse doesn't care how much you know, until he knows how much you care."

~Pat Parelli